Mount Kisco is one of Westchester's most vibrant and diverse communities.  Covering approximately 3 square miles, it's geographically may be small, but it delivers big in all that it offers. Affectionately known as the Big Little Village, MTK is located just 43 miles from New York City and sits right on the Metro-North Train line making it a great destination for commuters and weekenders alike.
Mt. Kisco has much to offer from fantastic shopping, incredible dining, entertainment and great medical care. It is home to Northern Westchester Hospital and countless medical professionals who are always ready to meet your needs.
Whether you are looking for a chic boutique, a quaint eatery, a friendly pub, fancy fro-yo, want to catch a movie, borrow a book, MTK's walkable-shoppable town has it all.
If you live here or are inclined to make a move rest easy knowing that the town is part of the highly regarded Bedford Central School District, is a village of varied faiths (check out the Unitarian Universalist Fellowship of Northern Westchester on S. Bedford Road for example), and diverse backgrounds.  Mount Kisco is a tight-knit community
---
A little bit of history:
It was in 1850, shortly after the arrival of the railroad, when Mount Kisco was founded. It included two small settlements called Kirbyville and New Castle Corners. Town history tells us that Kisco is derived from an Indian word –either kiskamenahook meaning "settlement near a brook" or cisqua meaning "a muddy place." Mount comes from the 623-foot hill northwest of town.
Since 1875, Mount Kisco has been an incorporated Village under the Village Law of the State of New York. One half of the Village laid in the Town of Bedford, and on half laid in the Town of New Castle. In the mid-seventies, the administrations of the two Towns agreed to support the Village's effort to "secede" from the Towns. Mount Kisco emerged from the Town of Bedford and the Town of New Castle as a coterminous and independent Village/Town of Mount Kisco effective January 1, 1978.
There is a statue named "Chief Kisco" in Mount Kisco. There never was a real person with that name. David F. Gorham gave the statue to Mount Kisco in 1907 as a decorative top to a water fountain. On the base of the pedestal are the words "God's Only Beverage For Man and Beast." Chief Kisco rules over the village from his perch at the intersection of Routes 133 and 117.
Credit Village of Mount Kisco.
---
Looking for outdoor adventures?
Mount Kisco is home to a few great trails and has a number of parks fit for you and your family.
Choate Sanctuary is 32-acres of protected forest in the middle of a largely residential area. It offers over a mile of walking trails through rolling hills with beautiful stone outcroppings. Access to Choate Sanctuary is more difficult than our other sanctuaries because parking is limited. Choate Sanctuary is also on a corner of two busy roads: Route 133-Millwood Road and Crow Hill Road just west of Mount Kisco. The sanctuary entrance is off Crow Hill Road and marked with a sign. Parking is best along Red Oak Lane across Crow Hill Road from the sanctuary entrance taking care not to block neighbors' driveways. Please use extreme caution crossing Crow Hill Road. Safety tip: always walk off the pavement on the left side of any busy road without sidewalks.
Leonard Park, a 116-acre park, is located at 104 East Main Street, Mount Kisco, NY 10549 in Westchester County. Leonard Park offers recreation programs, including basketball, baseball, a camp for kids, Mount Kisco Memorial Complex & Pool (3 swimming pools) and more great activities and fun for kids and adults year-round. The Japanese Pagoda is a beautiful setting for tranquil reflection. It was brought piece by piece to Mount Kisco from Japan.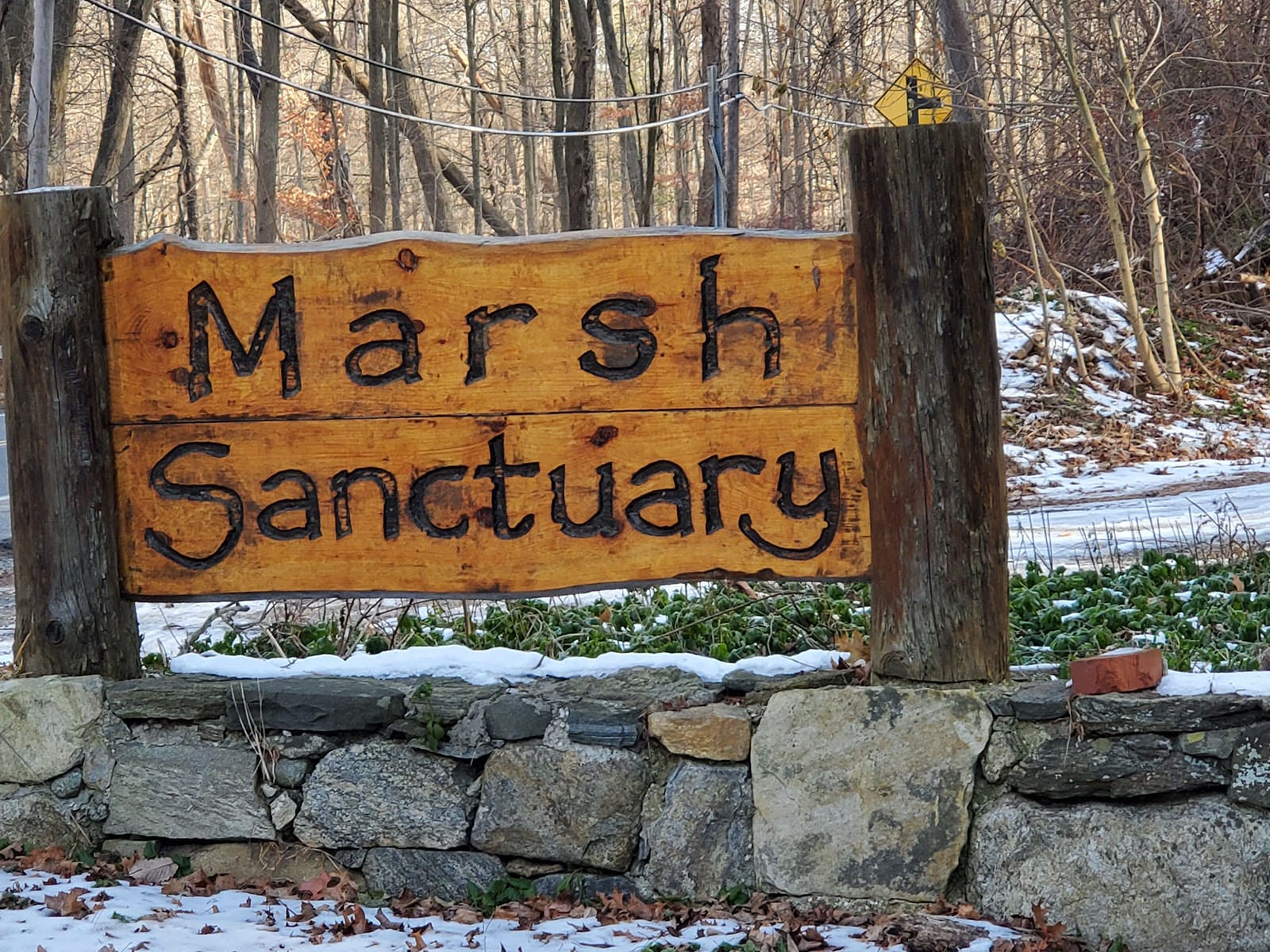 The Marsh Memorial Sanctuary is a 156-acre nature preserve, open to the public daily from dawn to dusk. Several hiking trails are maintained on the property and connect to trails in Leonard Park and other local preserves. Three parking areas provide access to the trail system and the gardens/amphitheater at Brookside.